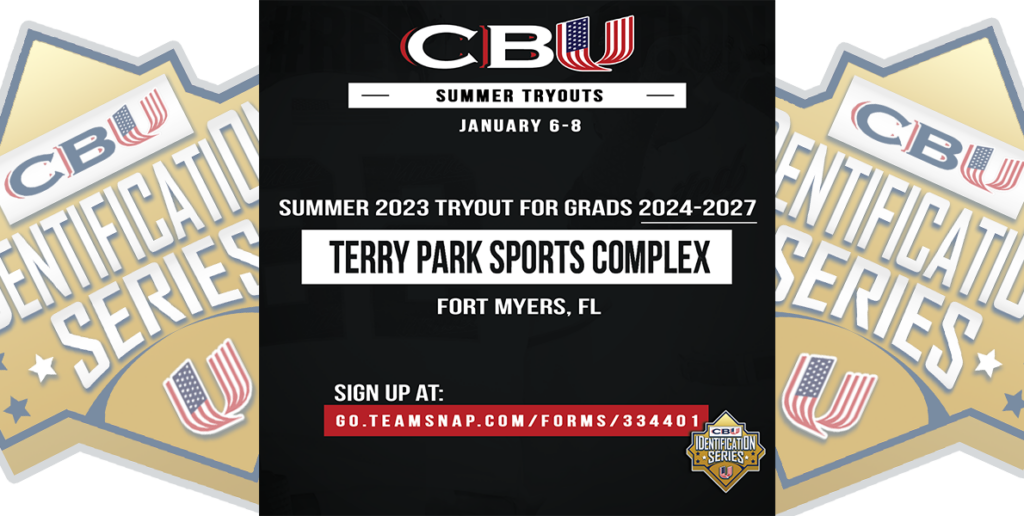 Summer 2023 Tryouts at Florida PG Headquarters
CBU will be holding our 2023 summer team tryout in Florida Perfect Game headquarters: Fort Myers, FL.
This event will be covered by multiple outlets such as Perfect Game, PBR, Prospect Select, Diamond Pro Media and more.
Event Info:
Grads: 2024-2027
Date: 1/6-1/8
1/06/2023 - Positional Player Check In and 60s (6:30pm-9:00pm)
1/07/2023 - Showcase Day (Position Players Only)
** Pitcher only check-in to Ft. Myers (late afternoon on Saturday)
1/08/2023 - Game Day (Pitchers and Position Players)
All exact times will be inserted into TeamSnap as the tryout gets closer.
**All positional players should plan on staying in Ft Myers on Friday and Saturday evening.
** PITCHER ONLY players will throw a localized bullpen in either (Ft. Lauderdale, Tampa, Ft Myers on either Wednesday (1/3) or Thursday (1/4) BEFORE the tryout in order to ensure arm health. They will then throw LIVE in the game on Sunday in Ft Myers.
Location: Terry Park in Fort Myers, FL
To register and gain further information, please click the button below!